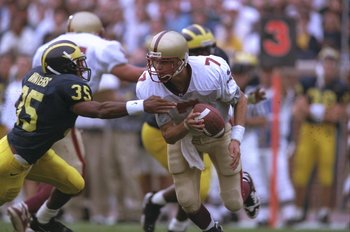 Matt Hasselbeck knows what it is like to lead BC during rough times.
This offseason Matt Ryan took Chase Rettig to dinner and
told him to have fun
. I love Matt Ryan but I am not sure he's the former BC QB that should talk to Rettig. Matt Ryan's BC was a very different place. He had one offensive coordinator for his first four seasons. Ryan was grew into his role. Things were good.
Rettig hasn't had that same luxury at Ryan. His redshirt was burned to save the offense in 2010 only to see him get hurt. He came back but the offense still sputtered. Last year due to the staff meltdown, Rettig dealt with two more coordinators. Things haven't been fun and Rettig is being asked to bring BC back and in turn save Spaz's job. If anyone can relate to all this chaos, it is Matt Hasselbeck. He dealt with three BC head coaches in five years. The offense was constantly being tweaked. He took a beating in the pocket while trying to make something happen offensively. He had to lead players and set an example even though the coach had sort of lost the team. Hasselbeck has a tough, smart and hard working player. BC didn't turn around in his Junior or Senior seasons, but how he handled himself earned him a spot in the NFL. Rettig needs to hear about those trials. He's better than his stats or his record but only BC fans know it. A little encouragement from a guy who was also better than his stats or record at BC might make the difference this year and next.