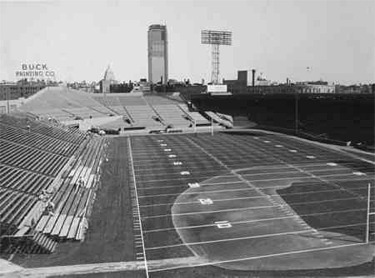 Rumors are floating that
Notre Dame might play UConn at Fenway in 2014
. If this is true, our new conference brethren and our marketing arm owe BC a big explanation.
I've long been an advocate or playing a game at Fenway. As concerts and hockey games have shown, the gimmick of watching an event in Boston's most famous stadium creates an added demand and sense of excitement. A bowl game would be perfect, but a one-off regular season game would be as effective. BC, given our location, our history of playing at Fenway and our partnership with the Red Sox, should be the first college team to return to the historic park.
The other problem is allowing UConn and Notre Dame into our backyard. If the Irish play a game in Boston on years when they don't play BC, it lessons the demand of their future games at Alumni with BC. And UConn is doing anything it can to be relevant throughout New England. Gillette is not an option because of UMass, so it is not surprising they would try Fenway. We can't let them. Would Rutgers let them play in the Meadowlands?
I am sure BC doesn't want to play at Fenway because we would miss out on a home game. But I imagine the net revenue would be as good if not better at Fenway. Plus we could play there on a Thursday night without any local obstacles. But if BC really wants to protect our territory, we should finally push for a Fenway Bowl. That would satisfy the Red Sox, give us a close bowl game and keep our rivals out.