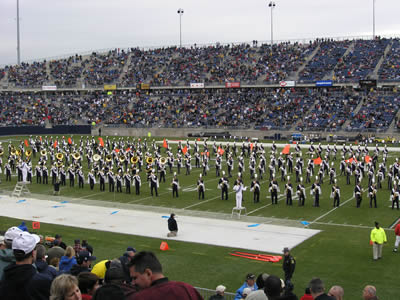 I tend to mock UConn whenever I can and revel in their woes. Grudges will make you do that. My disdain goes back to Calhoun's condescension, but really manifested itself when the State of Conneticut sued BC during the ACC expansion. I want nothing to do with them as a sports program and really cannot get enough of bad things happening to them on the field. As with most grudges, this stance is not healthy and not supported by logic. UConn is now in the process of finding a new coach, and as a BC fan, it is probably best that they hire a decent one.
There are a couple of reasons why a decent UConn program is good for BC. The first being that it raises interest in football in New England. The region will never be Florida or Ohio or even New Jersey as a source of talent, but there is still room for the sport to grow. If Connecticut is a joke of a program, fewer kids attend their camps, fewer dollars are put into football, media perception takes a hit, etc. If they are consistently above .500 and going to lower-tier bowls, their expectations and success will help football develop.
I also want UConn to hire a young coordinator because that guy could end up being a good BC Head Coach. Let them be the place where a coach learns how to build a program, recruit players and manage games. Then one day, if BC needs to hire a new coach, there could be a perfectly acceptable candidate who knows the region right down the road. Think of it like another Randy Edsall. We never hired him but he was always there if we needed or wanted him.
Finally, there will come a day when it makes sense to play UConn in football. The travel expenses are minimal, there would be interest and we will need games against mid-majors. A win over a decent UConn would help more than a win over a terrible football program.
I will always have enough animosity against UConn that I don't want them to be great. It kills me that they played in a BCS game before us. But having them as bottom-dwellers does nothing for us. What we need is for them to hire another Randy Edsall. Then once he has some success, we can sit back and enjoy the Huskies fans getting all riled up anytime someone speculates that their coach might want to be at BC one day.