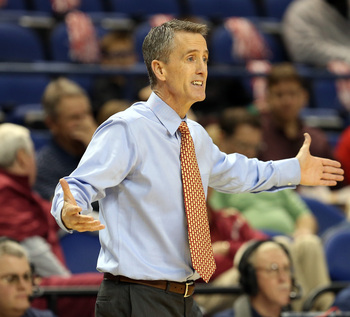 Donahue is done. Obviously he's not done coaching this season nor as a coach of basketball. But he has no future as the coach of Boston College. I am not going to pile on (you can get that elsewhere). I am not going to breakdown what went wrong (I'll wait until the firing is official). But he won't be coaching basketball at BC next year. There is too much at stake to let things go on and Brad Bates has no equity tied to Donahue. If anything, keeping Donahue hurts Bates more than firing him would. Like anyone proud person, Donahue is getting somewhat defensive of how things have turned. He said that he's
building things the right way
and that the
schedule hurt the team's confidence
. I don't really believe him on either account. But what I think doesn't matter. What he thinks doesn't really matter either. It's all about Bates and BC's other leaders. But if Donahue really believes this is all a taxing schedule gone wrong, than the l
oss to Harvard
should be a turning point. If he wants to show that he really knows what he is doing, he can prove it with the ACC schedule.
For whatever what went wrong with the out of conference schedule, the ACC schedule should not be a surprise. The players have played in the ACC venues and against these teams. They should have "confidence" to know they can win and compete. While the defensive rules changed things a bit, Donahue and his staff should have fewer issues scouting and preparing for the ACC opponents. This is the familiar part of the year. Donahue had so much confidence in the team's ability to compete in the ACC, that he rolled the dice on the non-conference. If he wants to impress future employers and if he wants to be a head coach elsewhere, then go out and win nine ACC games. Show others what this was supposed to be. Prove that you can "out coach" the best in the business. Recapture some of that X and O acumen that has been missing so much this year. Nothing is going to save his BC's tenure. So Donahue needs to coach for his next job.
The players need to kick it up a notch too. We probably won't get the full story of the collective regression for months, but nearly every player has regressed this year. They will all be playing for a new coach next year. Now is the time to start impressing the new guy. Any new staff worth taking over this program is going to watch these games this summer. Players need to start playing hard. Show toughness, smarts and basketball skills and you might get a fair shot with the new guys.
As we saw with football, when things go bad it is very hard for the coaches and players to come together. Odds are this will be a miserable end to a miserable season. But if all those involved are smart and proud, they will make the most of the rest of the season. It might not pay off this year, but they will all see benefits down the road.