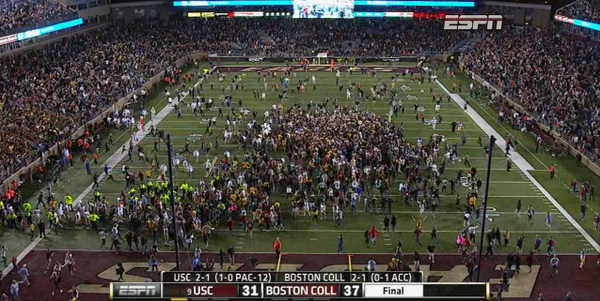 When I wrote about what BC needed to do in order to get back in a bowl, I said we had to steal a game from one of the big boys on our schedule. We didn't steal anything Saturday night.
We beat USC by overpowering them and running the ball down their throat
. Steve Addazio and his staff did a great job in their first year adjusting to the roster they inherited. This season's roster is a mix of young kids and some surprising transfers and they just beat a Top 10 team at Alumni. Calling the win huge would be an understatement. Right now it is clearly Addazio's signature win and hopefully the first of many.
There is still a long season ahead and this team still has clear limitations, but this win does two things. It gives the players confidence and it gives the staff a blueprint of how they can play with any team in the country. BC Football is fun again and playing to win makes all the difference.
I will have my grades and second viewing thoughts up late Sunday and maybe another post before celebrating the game and the win.