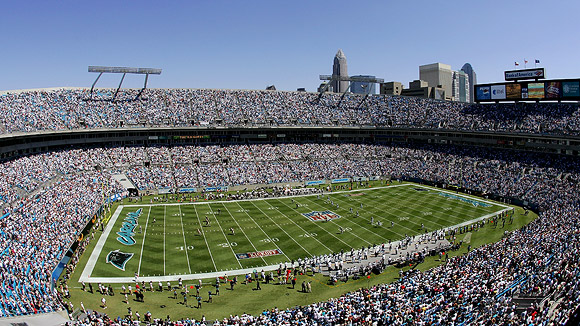 (I thought about avoiding this subject because the HB2 issue is bound to stir up both sides. But my point in this post is about BC AD Brad Bates.)
The ACC announced they will move the ACC Championship Game from Charlotte to another location outside the state. The Conference is following the NCAA's decision to move championships due to the state's HB2 law limiting civil rights protections for LGBT individuals. Speculation is that in the short term the game will move to Orlando. I think the move from Charlotte is a missed opportunity. Instead of going to another city where people really won't care about the ACC Championship Game, the ACC should use this change to move the games on campus. Who is the man to lead the on campus movement? Brad Bates!
While the on campus game has been used by other conferences and considered by the ACC, I know it is unlikely to happen now. Some location will make it financially worthwile and the ACC will continue to play a neutral game...and half the stadium will be empty. That is why I prefer an on campus game. If any ACC team hosted a Championship on campus it would sell out. Even at Alumni. It would look good on TV and the crowd would be a factor. Is the little extra money from a host city worth an inferior TV product and memorable setting? With so many ACC tickets unsold or given away, I think financially a home game could come close to the gate revenue in Charlotte.
If Brad Bates were a good politician, he could move the conversation that way. Because BC is a non-factor this year, his opinions wouldn't be based on benefiting his team this season. However, establishing an on campus precedent could benefit BC down the road. Our fanbase is never going to travel en-mass to an ACC Championship Game. Having it in Alumni would be different. It could potentially be the biggest moment in BC Football history. Even if this is a fool's errand, I would still like to hear that Bates is trying something among his fellow ADs. He's never listed as one of the influencers or leaders.
This is all wishful thinking on my part. The game is going to Florida and no one will really care, including BC's Athletic Department.