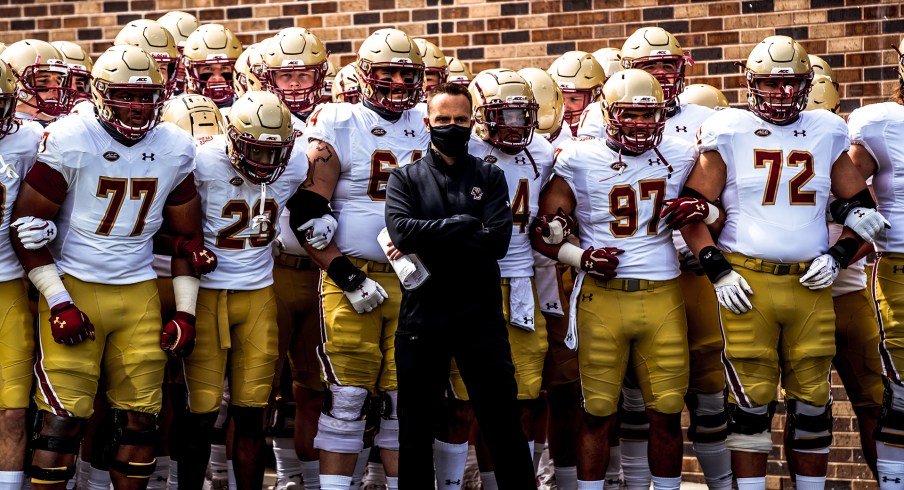 As frustrating and disappointing it was to lose to Virginia Saturday, I was a bit surprised by the number of people online who are upset about the season. I am not. In fact, I think this season was a huge success.
Every transition is different. This was not like TOB to Jags or Jags to Spaz, where we had lots of staff carryover and kept whole units consistent. This was a whole refresh and more like the transition of Spaz to Addazio. We changed Offensive and Defensive philosophy. We found a new QB. We put transfers all over the field. And we installed all this new info without a full spring and with all sorts of new restrictions due to COVID.
While six wins seems too familiar to BC fans, you have to remember we exceeded the oddsmakers', computers' and media's expectations. This was also six wins out of 11 games and this was the first time we ever played 10 P5 schools in one season. This schedule doesn't even compare to any we've faced since Henning's second year (and even Henning had Temple and Rutgers on the schedule).
But beyond the win total and dealing with the pandemic, I loved how Hafley handled games. We saw comebacks. We saw aggressiveness. We saw an emotional passionate coach, but not one who was not a bully, loudmouth or a goof ball.
Was it perfect? No. There were a few issues that have been well discussed. Some units that were supposed to have been our best and deepest (Oline and LBs) looked to have taken a step back. Was is position coaching or scheme or overestimating the talent on hand? I don't know. It will certainly be something to follow going forward. The penalties were also inexcusable. Hafley admits he doesn't mind aggressiveness that results in penalties. That's fine. But there were plenty that we purely stupid. He's got to find a way to cut down on those. He has shown the can instill discipline. Look how he handled COVIP protocols. Now he just needs to use those same tenets to make sure the players play smart.
But why I am more optimistic about Hafley than I've been about any first year coach in my time as a BC fan, is that he showed strengths in game management, game planning and program management. Those are the things that are so hard to improve. Too often coaches are stuck in their ways or old school thinking, or are just not good at that stuff. The stuff he needs to fix -- position coaches, talent, depth. Those things are fixable. Never getting a feel for a game is not.


All of this is still speculative. Hafley might never be much more than Addazio. But I am betting otherwise. I think this season was just the start and I see more great things to come.