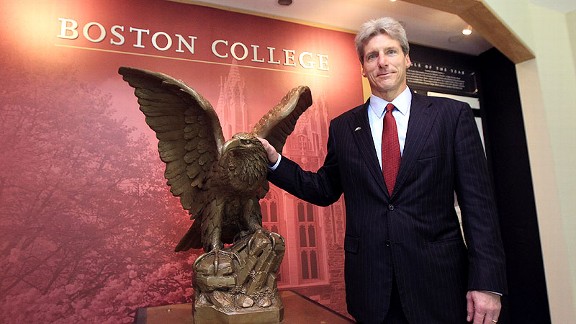 The search begins officially now. But as Bates said in his press conference, every AD in the country has a list. It now becomes a matter of working the list and finding the right coach. Unlike past BC leaders, Bates plays his cards close to the vest. I don't think you will hear much leaking. News will lean heavily on speculation. However, we can glean a few things from Bates' work during the football search.
1. He's not afraid to reach out to a big name.
During our last football search we know Bates reached out to Al Golden and Bill O'Brien. There's also been speculation that he talked to Chip Kelley. Even at the time all of those names were longshots, but it is encouraging that he approached them. I don't think he's going to get Tom Izzo or Coach K, but I am confident that he won't let a name or current salary keep him from exploring interest.
2. Recruiting matters...a lot.
Bates follows recruiting closely. He knows it is the lifeblood of the program. It was Addazio's biggest strength and probably what ultimately cost Donahue his job. We couldn't let him comeback and hamstring the program with a mediocre 2015 big recruiting class. I don't know who our new coach will be but I expect him to have a reputation as an ace recruiter.
3. Fan opinion doesn't matter that much.
The "splash" of the hire in unimportant to Bates. He said so during the press conference. He wants the new coach to be the right coach. A temporary splash can be a fringe benefit, but not the priority.
4. Administration opinions do matter.
One of the reasons Bates hired Addazio is that Addazio wowed the BC Staffers and the school had already done its due diligence on him in 2009. Bates put stock in that...or at least more stock than he did in the boosters who told him not to hire Addazio.
I don't know how this will play out. I hope for Howland, but there are plenty of good candidates. The Globe said Amaker is the leading candidate. That makes sense since he is a known recruiter and already has a few different BC constituents pulling for him. I am not a fan of Amaker, but will wait to see how this plays out a bit.
I don't expect this will be a rush job. We have one of the better openings and many of the coaches and assistants we would want to interview are in the tournament.
There are no guarantees in any of this. However, it is nice to have hope and it is comforting that we didn't waste an extra season of everyone's time like we have in other sports.