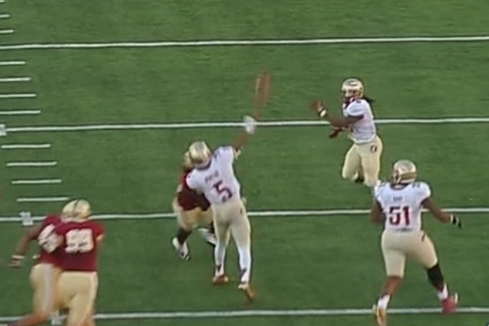 Winston's game-changing Hail Mary.
The ACC Media predicted a
6th place finish for BC
. Considering how Carolina-centric the crowd is at the Media Days, our lowely standing is not a surprise. But is BC really that bad? Is the Divison that good?
Florida State returns their Heisman Trophy winning QB and much of the talent that won the National Championship. I think even the most biased BC fan will admit that the 'Noles will be good this season. Clemson lost a lot of their best skill players, but given their recruiting the past five years, I think it is fair to rank them above BC. Transitioning to a new conference could cause problems and they are also replacing lost stars, but Louisville comes into the division with arguably the best offensive coach in the conference. That will be a tough game. But after that, I think there are a series of teams that all have major questions.
Syracuse -- reason why they might finish below BC. Still relatively young. Tough schedule could hurt momentum. Terrible passing game. We play them at Alumni.
NC State -- reason why they might finish below BC. Coming off a terrible season. Breaking in a new QB. Still very young.
Wake Forest -- reason why they might finish below BC. Tough schedule that could torpedo the season. Making major schematic changes from previous staff. Clawson started slow at his previous stops.
I don't know if BC will finish 4th or 7th in the Atlantic. But I don't think the division is loaded. Outside of Florida State every team is flawed. The bottom of the Division is manageble. It is just a matter BC covering our flaws better than our peer programs.