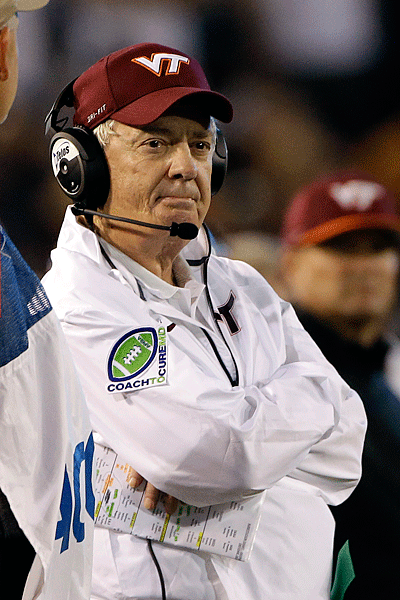 Despite his legendary status in Blacksburg there is a sense of unease among Hokie fans about Frank Beamer. The similarities between Beamer and other coaches who outstayed their welcome (Bowden and Paterno) are obvious: declining wins, putting his son in an important position, a more hands-off approach to recruiting.
Now there is fear about even getting bowl eligible
. BC cannot keep the Hokies out of the postseason single-handedly but getting a win this weekend is critical. First it helps our season and bowl eligibility. Second it might speed up the Hokies' decline.
BC knows what it is like to take advantage of a declining coach. We were 2-0 against Penn State in the aughts. We were 3-1 against Bobby Bowden as a member of the ACC. Beamer is only 68 so it may be premature to call for his retirement, but Bowden and Paterno both proved that it is hard to maintain consistent greatness as a coach ages. Even if the product on the field is not what is once was, the name on the uniform and the coach on the sidelines still matters. BC plays Virginia Tech annually and winning at VT still generates respect among recruits and the media. Let their decline fuel our rise.
VT has some solid building blocks for greatness -- good facilities and fanbase, a great recruiting territory in the Tidewater area, and friendly admissions policies. What Beamer did can be duplicated. However, we don't know when they change will come. For now, let's take advantage of every game we play against them. That sort of killer instinct has been lacking from our program for a long time. Putting VT away would be a good example to show that things are different with Addazio.