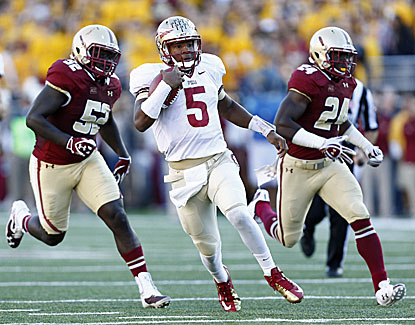 ESPN/ABC put
two games in their six-day scheduling holds
, which means we won't know the start time of BC-Florida State until Sunday. Since we are not playing this weekend, the decision on start times really comes down to who wins the Miami-Florida State game this weekend. If Florida State wins then BC will likely take on the Seminoles in a prime time slot. A bad FSU loss would probably move the game to a ABC earlier on Saturday. I don't really care about when we play. I think it is important for Florida State to win this weekend because of what it means for BC and the ACC.
The College Football Playoffs haven't even started and are already generating controversy. Who's in and who's out is a big deal. For reasons ranging to TV money and recruiting, the ACC needs to have a representative. If Florida State wins out they are a lock to make the mini-tournament. If they lose, the ACC might be shut out of the first playoff.
But I am also not suggesting BC lie down for the betterment of the conference. I want Florida State to be No. 1 and undefeated when we play them. If any team is going to play spoiler, let it be us. Ending their winning streak and ruining their season would bring major attention to BC and to what Addazio is doing. While the ACC would take a hit, BC's recruiting and fan support would improve.
Even if Miami upsets FSU, the game could still be in prime time. That would be fine, but the whole thing would feel a bit like a let down. So go 'Noles. I want to beat the best at their best!