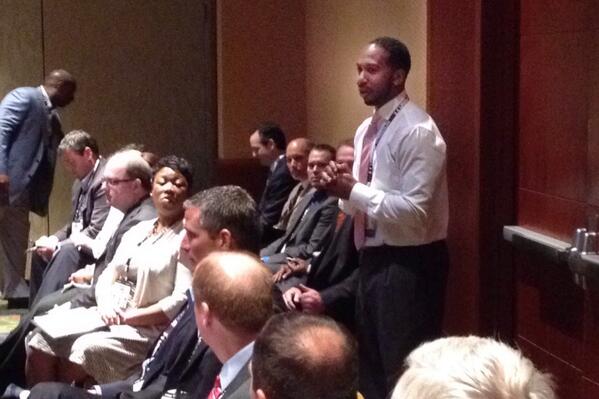 BC doesn't have a problem on its hands with Martin Jarmond. It is the opposite. The new Boston College Athletic Director has a huge problem on his hands. The problem is BC sports. At this point in time, BC Athletics has a fanbase problem, an execution problem with their most high-profile sports, a fundraising problem, a facilities problem, a local and national perception problem, and another dozen issues in some of the non-revenue sports. All of the problems are solvable. I had hoped for a more experienced operator who had been hardened in previous political battles. I will take someone who seems to have youthful energy, ambition and a vision. Jarmond is going to need all of it.
The good news is that Jarmond has a history and passion for fundraising. That was one of the known prerequisites for this search. Raising money at Ohio State and Michigan State is a completely different animal from BC, but if Jarmond's quick accent shows anything, it is that he can adapt and rise to the occasion. Development is hard and a lot like sales. There are many dinners, and coffees and rounds of golf, and at the end of each one, you have to ask the person across the table for more money than he or she ever planned on giving. Bates was never comfortable doing that. It looks like Jarmond can. That alone will be a breath of fresh air and should help BC's sports revenues grow. I am happy for the people in BC Development who have gone a long time without an AD they could leverage in their jobs.
Bringing in someone from a sports factory like Ohio State is an interesting decision for BC. We do so many things differently. BC won't change how we handle admissions or academic tutoring, but maybe we will become more like Ohio State in our sports operations. Instead of doing things on the cheap and how we've always done them, maybe Jarmond can instill some new methods and minimums to give our athletes and coaches an even playing field.
But years from now -- when we look at Jarmond's legacy -- it will be how he handles Football and Basketball. I am less concerned about Basketball. Jarmond is a former DIA basketball player. Jim Christian is a lame duck. Jarmond has nearly a year to get things in place and find a new coach next spring. He has never hired a basketball coach, but has been around the sport for a long time. I will trust him on that. Football is a different issue. The Urban Meyer clique did have influence on this process. They went to bat for Jarmond. Jarmond and Addazio already have a relationship (Addazio was keynote speaker at an Ohio State coaches clinic just a few weeks ago). Bates never stood up to Addazio. Will Jarmond tell Addazio to ignore the critics? Will Jarmond tell Addazio to watch his temper with lower level employees? And most importantly will Jarmond make a difficult decision on Addazio if we go 6-6 again next fall? We won't know until things play out.
The reaction among BC fans and in the Athletic community has been overwhelmingly positive. This is the honeymoon. I now hope that Jarmond can fix BC before the frustrating BC-ness of our sports operations break him.