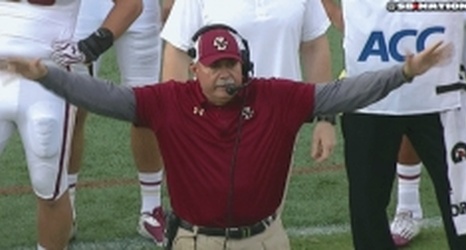 When Don Brown left BC for Michigan, I considered it a loss. After suffering through the growing pains as we transitioned from Spaz's zone heavy conservative D, to Brown's aggressive blitzing scheme, we finally had an elite unit. Brown also did a great job of identifying defensive backs who would thrive in his system. The Defense hasn't been the same since he left. I thought he would have success at Michigan (and he has, for the most part) and expected him to thrive with higher profile recruits in his system. Yet due to comfort or trusting his own eyes and network, he has continued to heavily recruiting New England and Massachusetts. This year he is really going hard after Massachusetts kids and has flipped some BC verbals and is targeting other potential BC kids. While this should be worrisome, I am not really concerned. There are a couple of different issues, but in the end I think it is a mistake for Michigan and maybe BC is dodging a bullet.
The factors (BC-centered first)
1. I trust Hafley's recruiting and talent evaluations.
Hafley had offers to these local kids, so he and his staff thought enough of them that they should be part of the program. Losing a recruiting battle sucks, but it is to be a bit expected when Hafley is a new head coach. He doesn't have the local connections or trust Brown has yet. It will take time, but Hafley has shown that he can find talent anywhere. He has done it at every stop. Even if his first two classes are light on local recruits, I am sure that in the end, he will fill the roster with players as good as the ones committing to Michigan now.
2. The development timeline and environment are very different at the two schools.
BC probably plays up the "diamond in the rough" recruiting narrative too much, but it is based on some truths. We have a history of finding late bloomers, tweeners and guys with chips on their shoulders who blossom at the Heights. That is often because given the lower expectations around the program and around the recruiting ratings, we can take the time to develop these players. If they can play as freshmen, great. But we also don't wash them out if they can't like many of the top factories. That probably hurts BC's depth, but once a player has been around the block at BC, you often see a huge leap in performance and Football IQ. I don't have the same familiarity with Michigan's development process, but it seems like it is much more sink or swim. While a low-level three star might surprise in Day 1 at a big program like Michigan, more likely he will be lost or a step behind. Given their needs and the desire to knock off Ohio State, Michigan is probably best to get as many full developed stars as possible and let the best of the best play from Day 1.
3. I don't think Massachusetts talent justifies Michigan's investment.
I have been hoping for a Massachusetts boom in football talent for two decades now. I thought the Patriots' success would create a whole new crop of football loving kids in our backyard. It hasn't. The grassroots level still pale in comparison to what you find in Ohio, New Jersey and even Michigan. There are not enough kids, not enough dedicated time to football, not enough good lower level coaching and not enough competition to make these youths better. Are there still good football players locally? Yes. But not enough to fill BC's class, and certainly not enough to fill 20% of Michigan's annual recruiting class. Just take a look at the number of players from the Bay State who have gone to Power 5 schools since 2013 (when Brown came in with Addazio).
2020 -- 11 Massachusetts commitments to P5 programs (3 to Michigan, 2 to BC)
2019 -- 5 Massachusetts commitments to P5 programs (1 to Michigan, 1 to BC)
2018 -- 7 Massachusetts commitments to P5 programs (0 to Michigan, 4 to BC)
2017 -- 9 Massachusetts commitments to P5 programs (0 to Michigan, 4 to BC)
2016 -- 7 Massachusetts commitments to P5 programs (1 to Michigan, 3 to BC)
2015 -- 13 Massachusetts commitments to P5 programs (0 to Michigan, 7 to BC)
2014 -- 10 Massachusetts commitments to P5 programs (0 to Michigan 8 to BC)
2013 -- 7 Massachusetts commitments to P5 programs (1 to Michigan, 2 to BC)
Addazio, for all his faults, had a good eye for talent and loved New England kids. If there had been more local talent, he would have recruited it. And how many kids in the last decade have truly slipped under the radar? It is not like Mass kids are filling up and staring at lower level FBS programs. When considering the negligible success that many of the Mass P5 kids that "got away" from BC, I think we know that there is not some sort of untapped goldmine locally.
4. Who is not recruiting these kids.
BC offers local talent in its backyard. That makes sense. Don Brown leads a push by Michigan for these same kids. As we outlined, I would expect him to aim higher, but still makes sense. Ryan Day (and Al Washington) and Steve Addazio know these schools, know these coaches and probably know many of these players. They are not bothering recruiting them. That should tell Michigan all it needs to know.