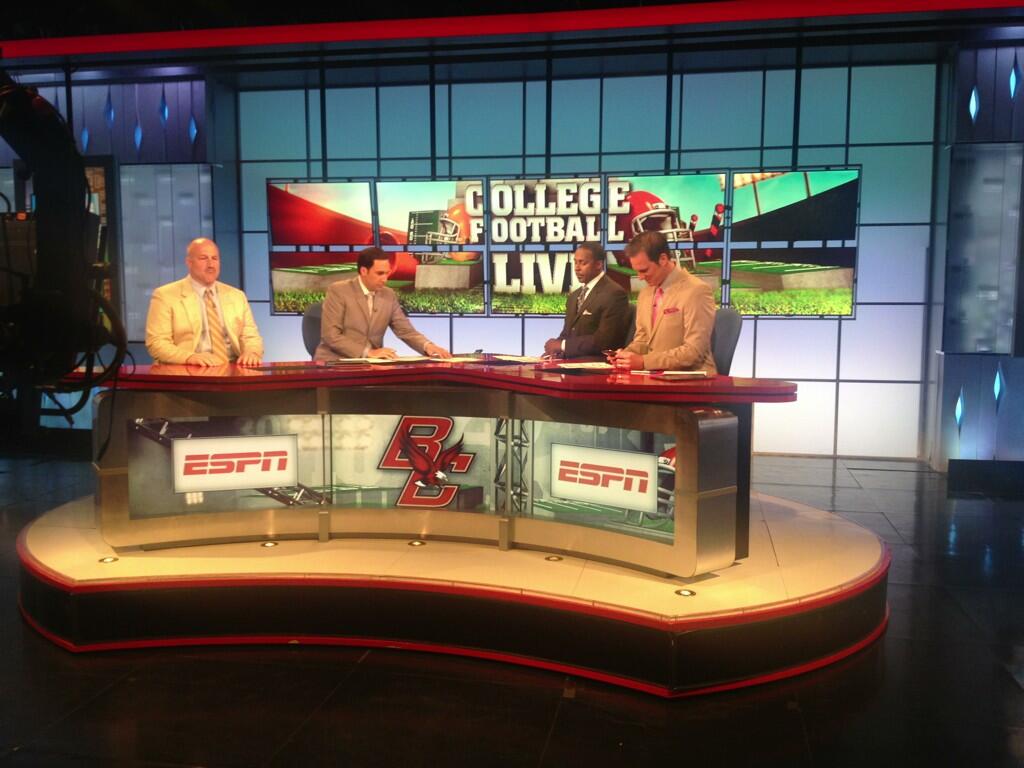 While many coaches have spent time at ESPN, I cannot think of another who got so much airtime in one day. I also cannot recall any BC figure at any time getting that much attention from the worldwide leader in sports. Regardless of the
Tebow nonsense
, Addazio's day at ESPN has to be viewed as a huge success. Here are my thoughts and news of the day.
-- The best moments of the day were his stint on
College Football Live
and his
chat on ESPN Nation.
In both forums Addazio was able to focus on BC. He reiterated many of the things we know like his focus on recruiting and his willingness to shape the offense to his talent. In the chat he also mentioned preliminary plans for a new practice facility and that he is taking names off of the jerseys.
-- I cannot recall a BC coach being so engaged with the media. I don't think Addazio is a great quote or has natural TV charm, but he has the right energy and attitude. He wasn't glib or boring or standoffish like some of our past coaches. He was himself. You can see how that same passionate and straight forward personality is paying off on the recruiting trail.
-- Addazio really likes Chase Rettig. I had heard this before through the grapevine, but Addazio was pretty effusive in his praise for our Senior QB. I know Addazio wants to run, but given our lack of depth at running back and talent in the passing game, I think we will throw a lot this season.
-- Addazio needs to do as much as possible to win over fans and media now. I think we are in for a major rebuild after this season (once Amidon, KPL, Rettig, etc graduate). Addazio makes a good case for his vision and BC's direction in these settings. The booster meetings have all been positive too. Load up on the good will tour now while he still has a clean slate.