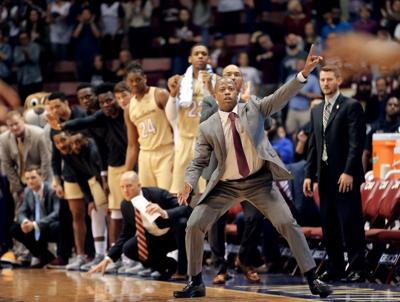 The general reaction to BC hiring Earl Grant was "who?" and "why?". There was a similar reaction among the fans and media when we hired Jim Christian seven years ago. I hated the Christian hire for Day 1. I am onboard with Earl Grant. And if his hire reminds me of any BC coach, it is Al Skinner.
Skinner was close to Grant's age when he took the BC job. He also had a similar track record as a head coach at a mid-major. Neither were hot names on the coaching market at the time. Skinner succeeded. Let's hope Grant does as well. Skinner advised during this process and has provided Grant assistance and an evaluation of the BC job. That alone is probably worth more than our last two coaches got in the hiring process.
Grant is not a Skinner clone though. He is more personable and will be more of a salesman than Al ever was. He also is a D first coach, where sometimes it seemed like an afterthought to Skinner teams.
The make or break will be staffing. Skinner had great staffs (including five guys that went on to be head coaches). Donahue and Christian did not. Grant has a budget to get good people. If he just brings his Charleston crew, I will become a bit more skeptical of him.
Grant is known as a good recruiter. That should help. Many of our common complaints about BC recruiting are being solved (facilities, admissions, etc). If he brought NBA talent to Clemson and Charleston, he should be able to do it at an improving BC.
Much is being made of his lack of ties to the region. From a recruiting standpoint, that doesn't bother me. Talent is all over and most of our stars have been from outside the region. The lack of ties to BC or the region becomes a bigger concern for me in adapting to our community and culture. All colleges (even the non-Catholic) become a bit parochial in their approach to things. When you are someone new to the school it can often be daunting. You have to decide which battles you are going to fight every time someone says "that's not how we do things here." But having coached against BC and having a relationship with Skinner leads me to believe that Grant understands BC more than we might expect and has a plan for how he will adapt to BC and where he needs to make changes.
Who he is not?
Grant is not Dennis Gates or Mark Schmidt or Porter Moser or Tommy Amaker or Howard Eisley or any of the other names floated for the job. That is by design at BC. Gene used to talk and speculate with any and everyone. Fans, media and bloggers liked it, but BC did not. Each subsequent coaching search since has been more and more tight lipped and more and more speculative. That leads to fan frustration and disappointment when a random name is hired. But who cares really? Winning the press conference is nice, but that goodwill fades if you don't win once the games start.
The biggest problem with BC's timing is that there wasn't a perfect, give the guy a blank check candidate for us. John Beilein had zero interest last year and even he has some baggage with regards to his age and how he left the NBA. What other name would have been worth going for broke with? I like Ed Cooley a lot but was he the answer?
The future
Kraft could have gambled a bit more. He could have hired a hot name or an assistant. I am glad he didn't because my expectations and goals at this point of BC Basketball are pretty low. I just want to get back to respectable and competitive annually in the conference (.500). Grant is no sure thing, but I think he is a good mix of potential and competency that will get us back to where we were before these last 11 seasons. I wish him luck and think he will be fine. And if we are lucky he will be a great hire and a great fit.