Pro Day is about the guys entering the NFL Draft, but every year there are a handful of BC football alums that also work out. The older guys are not eligible for the Draft. Instead they are using this as one last chance to catch the eye of an NFL scout. This year's returnees were Lars Anderson and Ifeanyi Momah.
Everyone knows about Momah's health and eligibility issues. Anderson -- who had a fairly productive BC career -- hurt himself at last year's Pro Day ruining any outside chance at getting drafted. A year later both of these guys still want to play. I am a blatant homer, but I actually think both could be NFL contributors. Anderson was a good blocker and there are many teams that could use a hybrid TE/FB/Special Team. For someone like Anderson the more hats he can wear, the better. Momah is a different case. He has all the tools to be a good, maybe great NFL WR. But no one knows if he can since he never got to show it at the college level. Our offenses and his injuries neutered any potential showcase. Now that he is healthy, someone will invite him to camp. His height alone is attractive enough and he'll get good recommendations on his personality (he's the type coaches like to have around). The question then becomes can he catch enough balls and turn enough heads to stick with a team. I think and hope he can.
There a little secret about college football players. A lot of them don't like playing football. Playing is a grind and for many a means to an end. But for guys like Momah and Anderson -- who still want to play -- this is a tough time. Do they give up their dream or keeping grinding? Our two guys will probably never play in the NFL, but they and I can still hope for one last chance.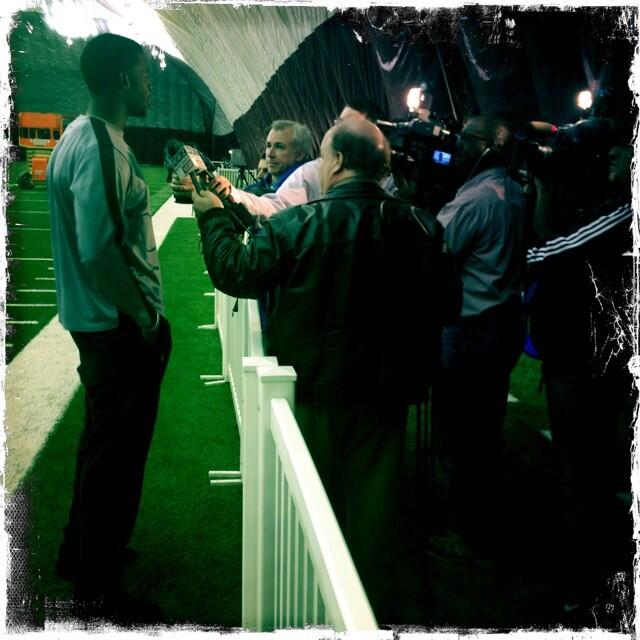 Momah talking to the media.