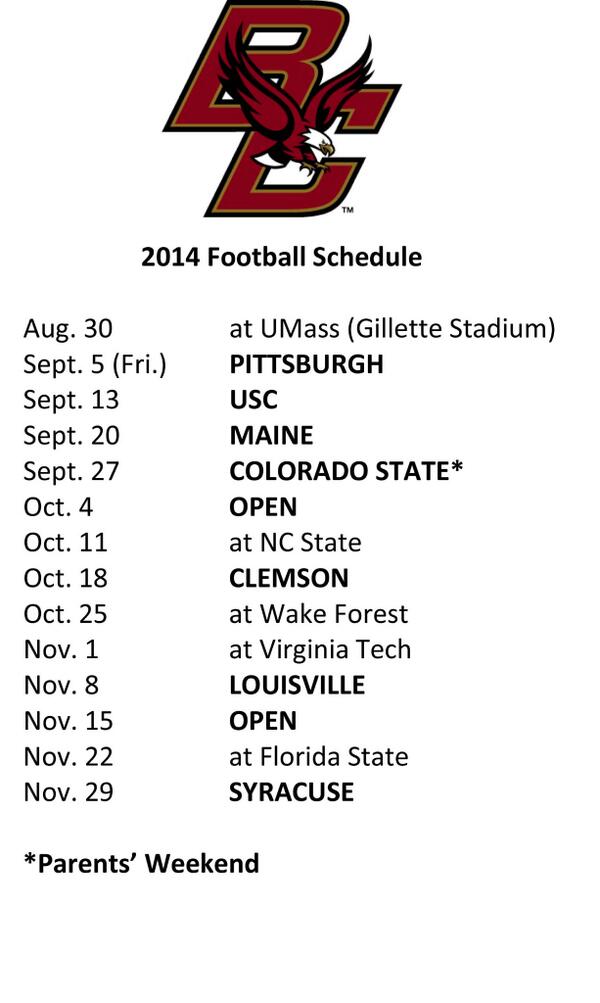 We've known who BC was going to play for some time. But today
BC and the ACC released the official schedule with dates
. Here are my initial reactions:
The schedule is much more balanced than last year. There is no killer stretch. If you had to pick the toughest area it would probably be three road games in four weeks with Clemson in the middle.
Having an off week before Florida State is nice. The defending champs are going to be really good next year too. We will be underdogs, but at least we have a week off to prepare.
Another Friday game to open the home slate. I know I like Friday games more than actual ticket holders, but Pitt on a Friday after playing in Gillette is not bad.
We can go bowling with this schedule. Because of all the departures, expectations will be low. But seeing the schedule on paper and how it plays out, this team can get to six wins. UMass and Maine are near automatics. We will probably be favored against Colorado State. I don't expect to beat FSU. If we can split with Wake, Pitt, Syracuse and NC State and steal one from the VT, Clemson Louisville, USC group, we can be in the post season again.