I've lamented before that I am not a fan of
BC's current logo
. It really cuts down on anything I would think of wearing or buying. So when I found this hat,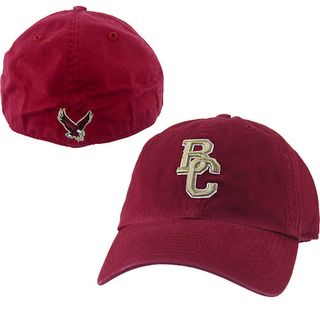 Best BC Hat Ever

at Sports Moments & Memories in the Perimeter Mall I had to buy it. No angry chicken. No italicized letters. Simple. Adjustable-fitted. Perfect. It might be my all-time favorite hat.
Moments & Memories is filled with all sorts of SEC and ACC tchotchkes, but not a lot of BC stuff yet. That is probably best since I don't have to fight the temptation to buy a BC chips and salsa tray or a BC style miniature stock car. Much to my surprise they did have a foam mascot hat like these (sorry, couldn't find a pic of the BC one). So if anyone is interested in the foam hat or the perfect hat, let me know. I might be willing to ship. Or you could just call the store yourself.